Since Shawn was out of school for Good Friday, I had told the kids we could go to BRI & see what Grandpa does in therapy. Shawn was there for speech on Wednesday, but he was really interested in Physical therapy & exactly what they involved. So we were able to experience Physical & Occupational therapies while we were there.
When we got there, Daddy was in group speech so Mom met us down in the garden to eat her lunch then we all headed back inside for therapy time. The day was ABSOLUTELY gorgeous!!! I think the sunshine did us all good!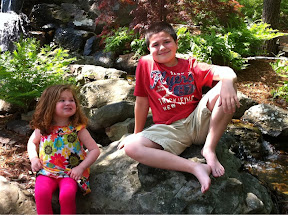 Daddy was so excited to see Shawn & Anna Kate!!! He was more interactive w/ them than he has been so far. He was trying really hard to talk to AK & she looked at me & whispered "I can't hear Grandpa." I know that's hard for her to understand, but she knows he is trying! He worked really in OT to put his own shirt on all by himself...one handed! His OT has also started taping his right shoulder to pull it back up instead of it dragging due to the weakness. It seems to be helping...it at least in lime w/ his left one. They also put on the BioNess stimulator machine. He's not real fond of that & after a few minutes was pulling it off. They encouraged him NOT to do that or he would get a really bad shock! Ouch!! In PT, his therapist worked w/ him standing while bracing himself on the table. He had worked really hard that morning so he was worn out, but the more they worked the easier he seemed to move. They worked on him shifting his hips back & forth to shift his weight the same way we do when we walk.
When therapy was over, we asked if he wanted to go outside & he said yes so we headed back to the garden. Daddy seemed to really enjoy watching the kids play on the rocks & in the water. Again, the day was gorgeous so it was definite therapy for everyone. Is this just not the sweetest thing?!? AK needed to help get Grandpa where he needed to go. She walked right beside him w/ her hand on his chair the entire time we walked...inside or out!
While we were in the garden, Grant came up also & we were all there together. When Grant sat down to eat his lunch/snack/supper, Daddy started moving his chair bc he wanted to be at the table w/ him. Daddy was very involved & interactive w/ all of us yesterday. It was amazing!!! Mom goes down to McBride's Cafe almost every day to see what kind of homemade desserts they have so she can get Daddy a treat for after therapy. Yesterday was Chocolate Four Layer Delight! He ate his dessert while we were in the garden & AK wanted to give him a bite.
She also shared the cream from her mall cookie w/ Grandpa! It felt so good to do something kinda normal as a family (we did miss Daniel though)!
AK didn't want stand still very long so I didn't have a lot of luck w/ a pic of her :-( She had a blast though!
Shawn & I went to the Good Friday service @ church last night when we got back to town. It was incredible & we both needed to be reminded how wonderful our Savior is!!! He is our hope in the good times & bad! He is Faithful!!!
Today seems to be a little of a downer for us all though. Dr. Kiser told Mom this am that Daddy wasn't progressing as fast as they had hoped. He said we have to get the speech! We aren't real sure what to do w/ that information & what all that means for now or the future. Even though we don't know what tomorrow holds, we know the One who holds tomorrow. He has been faithful every day of this journey & will continue to be. I am constantly reminded of how a day can't go by w/out my total dependance on Him for every need! Please pray for progress that no one can explain except by the hand of God. (Dr. Kiser is a believer & has ministered to mom this week. He has worn a different "Christian Faith" tie every day this Holy Week. What a testimony & opportunity to share his faith! I pray that I do the same in my world!
Also, please continue to pray that Mom will be able to stay. They are very full @ BRI so she is constantly aware of the fact that they could walk in & say they need her bed! Probably her biggest worry & fear! I hope you all have a wonderful Easter celebrating the resurrection of our Savior!!! Christ is Risen!