When we were able to move Mom & Daddy downstairs, there was still one major issue that had to be tackled...a ramp. Even though their apartment is on the first level, there were still some steps to navigate. The issue became a little more pressing when plans quickly changed for Daddy to come instead going to another rehab facility.
Well, as usual, some wonderful men stepped up & took on this project as a personal ministry for Daddy.
With this being a long weekend, a couple of guys went yesterday to measure & purchase supplies then headed back to Terry's shop to begin building. Terry & Mark build the frame pieces in the shop then loaded them up & transported them today to put together at the apartment.
They worked for a few hours this afternoon & completed the project for very 2 very appreciative & thankful people! Mom & Daddy can now easily come & go from the apartment...just in time for therapy to begin Wednesday!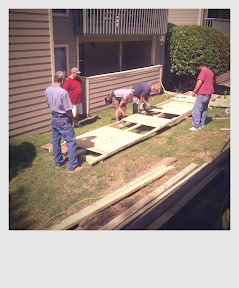 Daddy spent some out watching the work & I think enjoying the process. Mom said there were a couple of discussions about some things & hat Daddy seemed to get tickled listening & watching them figure it out. I'm sure he was fit to be tie not being able to tell them how & what to do ;-)
And....the finished product....
We cannot begin to express our thankfulness & gratitude for these men. They took time away from their families this Memorial Day weekend to bless Mom & Daddy in an amazing way! This has been a huge burden for Mom & I'm so grateful for their gifts, servant hearts & work ethic. Thank you beyond words to Terry, Mark, Doug, Matt & Dave!
Do nothing from selfishness or empty conceit, but with humility of mind regard one another as more important than yourselves; do not merely look out for your own personal interests, but also for the interests of others. Have this attitude in yourselves which was also in Christ Jesus...Philippians 2.3-5