We have had a busy last couple of days. On Friday, we headed to LR to help Mom work on getting the apartment in order plus Uncle Ronnie & Aunt Judi were coming down for a visit. Daddy had therapy Friday Am so our goal was to get some things done while he was there. Mom had already run some errands when we got there so we met up & ran to Target to look for some baskets or storage containers for the kids' toys (there's lots of them). By the time we finished our trip, it was pick up time.
Funny story...Mom sent me inside to bring Daddy out so I went down to wait. I had been down there about there about 15 minutes & he never came out. I started to sort of panic & of course I didn't have my phone to call to Mom. I finally found someone & she asked who I was looking for. I said Phil Harvey & she said oh I saw him today. She said I parked him right here. Then she said "he can't go anywhere by himself can he?!?" I just laughed at her!! My thought...oh great I can't even pick up from therapy without loosing him!! Haha! I really started to panic then. About that time, Mom got off the elevator & said he was upstairs. He was going up when I was going down so he hadn't been down there the whole time. Whew!!! I was sweating that one.
We had decided we would drive thru to grab some lunch then head back to work. Daddy started pointing his finer & saying something but we didn't know what. He was very emphatic about where he wanted to go & finally we approached Bowman Curve shopping center when he pointed over to Crazy Mike's. That's what he wanted!!! This is HUGE bc he hasn't been out to eat. He has been somewhat embarrassed about being in the chair so we knew it would come but didn't know it would be right then! Ha!
Needless to say, Mom was a bit stressed by the thought of getting inside, finding a place to sit w/ the chair, add in 2 kids, etc. I told her we had to go though...had to make it happen! We made & don't have any battle scars from it.
We finally made it back for Daddy's nap time then it was time for Uncle Ronnie & Aunt Judi to be there. I did get the shelf we bought put together...one task accomplished!
We had a great visit with them while they were here. It was really good for Daddy to see them!!! We all sat around & talked while Shawn fished for crawdads in the creek & Anna Kate played babies on the porch!! Grant was even there for a few minutes before having to head to work. Uncle Ronnie & Aunt Judi headed back to NWA this am but stopped back by to visit for a little bit more. I'm so glad they came!!!! (And not just bc they brought fresh blueberries!)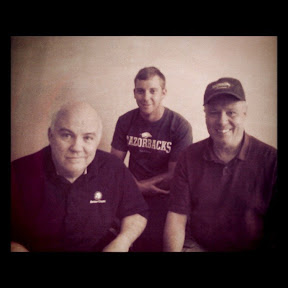 To end an already BIG Friday, as my crew was preparing to leave, I asked Daddy if he was hungry & he shook his head yes. He started gesturing & trying really hard to tell us something. I asked him if he wanted us to bring him dinner. He shook his head yes so I started asking what. When I mentioned Macaroni Grill, he pointed at me & smiled so I told him I would go get it. That's when he pointed at each of us & then to the door...he wanted to GO eat again!! So what did we do?!? We went!
We had a wonderful evening out & it was so nice for all of us to go out. I know what you're thinking...we went out at lunch, but it was all of us like old times.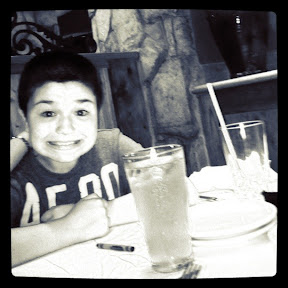 The night got really interesting when Shawn was convinced that he saw Guy Fieri at the bar. There was much "discussion" about whether it was really him or not. Daniel bribed him to go ask. Daniel told him he would take him for frozen yogurt if he went to ask. Yes, he went & the guy laughed it off telling him no. At this point, Mom & I were ready to hide under the table. Well, he then called Shawn back over & gave him a piece of paper with his signature on it. You be the judge...although if you can't tell from the smile, he's certain!!!
That pretty much sums up the beginning of the weekend. The weekend continued to a good one since Mom & Dad made it to church for the first time since April 3!!! They were both very glad to be there! I'll share about Sunday very soon. Til then...
Much love to all of you & thank you for your continued prayers, love, support & encouragement.