This is another week of change & transition...I typed this post last night but fell asleep before I got it posted. How sad is that?!? Ha!
We transferred Mom & Dad into the downstairs apartment this weekend which we couldn't have accomplished without those who pitched in to pack, move boxes & unpack. It's not quite there yet, but it is getting there.
Sunday afternoon, we all headed to BRI for a few minutes of visiting. Daddy was actually asleep when we got there but that didn't last long since Shawn & Anna Kate were in tow!! Ha! He was laying in bed & we were talking when all of sudden AK started "doing therapy."
She had found a rubberband in the room & told Grandpa it was time to do some therapy. She slipped the rubberband over his foot up onto his leg. She kept telling him now do this or move your foot this way. It was hilarious bc she has seen him in therapy enough to know a few things that they do as well as being a therapy veteran herself.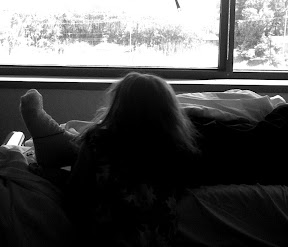 After she had done a little PT, she decided it was time for some speech! She pulled out his alphabet chart & start saying the ABCs w/ him.
Shawn joined for the speech session to work on counting & numbers.
They both love working w/ him on his letters & numbers. When we were in the process of saying good-byes, the kids had hugged & kissed when Daddy pulled himself to a sitting position using his left arm & the bedrail. Then he slipped his legs off the bed & just sat on the side of the bed! I was completely impressed @ that point but then he just stood up!!!! He braced himself w/ his left hand on the bedrail but he got up easier than he has ever gotten off my couch!! Ha!
Of course, Mom started telling him that he couldn't walk or he would fall...he of course gave her "the look." It was amazing!!!! We got his wheelchair & he pivoted himself a bit & sat down in his chair. Mom & I were there but didn't really do anything!! This was a BIG deal!!!
Another BIG deal was this after non when he finished PT w/ Matt, he was leaving & Mom said you better tell matt "thank you" & he DID!!!!!! He said "Thank You" to Matt! Our friend, Lisa (a PT), was standing there also & so they ALl heard it!!!! We are very excited & anxious about what might be next! He has been making huge strides (at least to us)!!
I was @ Heart hospital today checking on someone & when I left the room walking past the nurse's station I saw one of Daddy's nurses (Kathy) that he had during his week @ Heart. She said that she has had Mom & Dad on her heart & mind the past few days. That is just one example of how we know that God is impressing upon people how to love us then you are obedient so we are so grateful!!!! I asked Kathy to share how things were going w/ the other nurses
Thank you once again to all of you for your prayers, calls, texts & visits. We are so appreciative for each & every one! Please continue your prayers & encouragement especially as we were faced w/ some different news than expected on Tuesday am. Mom was told this am that there was significant pay increase in the rehab facility since it was out of network...only problem is that there are no facilities in LR proper in network. So long story short..,Daddy goes HOME on Friday! This has caught us off guard, but we do feel ok w/ this situation if we can get some things done @ the new place to be ready for him. I know none of this has caught God by surprise so we continue to trust even when we don't understand or feel like we are fighting an up-hill battle! We know that Daddy wouldn't be where he is now if it wasn't for God's care & provision which he will continue to provide! Please be prying for all of us as we make this huge transition!